Our Social Responsibility
What we give back to the community
Adecco Vietnam 2018 University Tour
With great excitement and energy, we brought our 2018 University Tour to Hanoi and Ho Chi Minh City.
Our First Quarter of 2018 is filled with happy faces and helpful talks, from our Kick-Off meeting, Tet Party to our University Tour in Hanoi and Hochiminh City.
With great excitement and energy, we're ready to take on the Second Quarter! Experience
#AdeccoVietnam
and be part a
#Adecconian
now at
http://adec.co/careerVN
Global Sports and Inclusion Day 2018
[June 23, 2018] In the spirit of the #GlobalSportsandInclusionDay, we had an amazing time with the children at Dieu Giac Pagoda, from painting to playing football and singing.
The gifts of stuffed animals, candies, cakes and 10,525,000 VND, which were donated from Adecco Vietnam team, were also delivered to the organization.


We would like to send the deepest 'Thank you' to everyone who participated and contributed to this meaningful event.


Apollo 360 Career Day
[April 13, 2018]
Let's take a look at Adecco Hanoi team at Apollo 360 Career Day. This wrapped up our career talks/interviews for first jobbers in the Adecco Way to Work initiative in March & April 2018. If you are interested in a career change, our doors are always open and our consultants are here to help. Check out our interesting job openings here:
http://adec.co/J09o14



See you at our 2019 University Tour!
2018 CEO for One Month Workshop at RMIT University Vietnam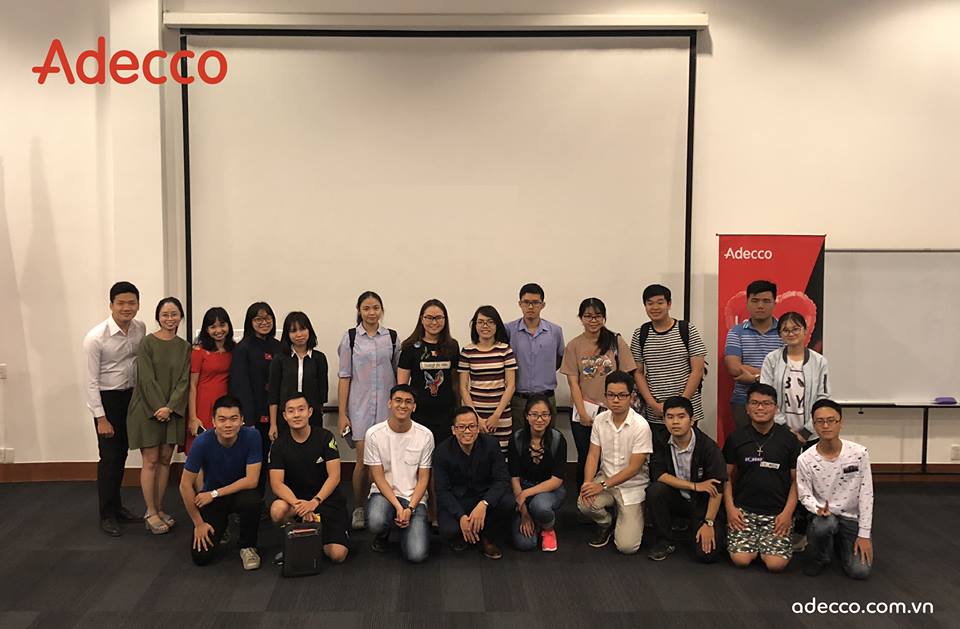 [March 22, 2018]
We had a wonderful Becoming 2018 Global 'CEO for One Month' workshop today! During the session, we had a chance to share about what is
#CEOAttitude
and how participating in this program benefits young talents.
We would like to send special thanks to
RMIT University Vietnam
for supporting us in this event!
Adecco First Career-Talk in Hanoi: Getting Hired 101
[22 August 2017]
This Wednesday, our General Director Andree Mangels and Hanoi Branch Director Nguyen Thu Ha had a successful career talk with Hanoi youngsters. The event focus on nailing the perfect resume and interview filled with expert insights from our managers as well as questions from young talents.
See you again at our September event in Hanoi!
From School To Work Career-Talk
[26 July 2017]
#CEO1Month
Nguyen Lan Chi and Eksakul Charoensupkul had a great time delivered From School to Work Transition tips to fresh graduates. Thanks to all the
participants,
both online and offline, for giving us the chance to understand about your career choices and plans.
We also want to send a special "thank you" note to ILA Nguyen Dinh Chieu and YBOX.VN for supporting the event.
See you again at our next event!
To watch #FacebookLive videos from the career-talk, go to
our Facebook page
.
Miles of Smiles Charity Event


[18 July 2017] The sudden rain yesterday couldn't stop our Adecco Vietnam team from completing our Miles of Smiles to make a positive difference in people's lives. 180KMs were counted towards our Win4Youth while 50 Happiness gift bags were shared with disadvantaged people along the streets. Our team also donated 7,822,000VND to the Nguyen Hien Le Scholarship Fund - by
Kira Kira
.
We would like to send a huge 'thank you' to your partners: F&N Vietnam and Bel Vietnam
- for their generous donations to our event.
#
BeMore
#
SportsInclusionDay
#
love
#
makeadifference
Adecco Win4Youth and Mid-Year Party in Ho Chi Minh City
[2 July 2017] Last Sunday, we had a wonderful Win4Youth and Mid-Year Party with our clients and associates in Ho Chi Minh City. Thanks to our associates for your hard work and warm participations.
Adecco Vietnam Appoints 'CEO for One Month'
[May 26, 2017] Adecco Vietnam, a subsidiary of the world's leading workforce solutions provider, has selected the winner for this year's 'CEO for One Month' programme. The successful candidate will work alongside Adecco Vietnam country manager, Andree Mangels, in Ho Chi Minh City head office, learning on the job and gaining a privileged overview of management in a complex, global organization.
Stamford International University graduate, Nguyen Lan Chi, will join Adecco Vietnam as the country CEO for 1 Month starting in July. Chi emerged victorious from the Top 12 Finalists Audition on May 20, 2017, against other bright young talents from Hanoi, Ho Chi Minh City and overseas. A member of Stamford All Star Club for the 5% best students, Chi had travelled and studied in Germany, Singapore, UAE and Australia before completing her Bachelor's degree in Thailand, where she also gained professional working experience with the Pullman Khao Lak Katiliya Hotels & Resorts.
"We are amazed at the talents applying for the CEO 1 Month position this year", commented Andree Mangels, General Director of Adecco Vietnam, "Our Top 12 finalists showed their passion for pursuing a career in recruitment fuelled by ambition and knowledge that they learned both from school and their own international exposure. It was definitely not an easy decision to select one CEO 1 Month from a group of 12 talented individuals but in the end, we believe that with Ms. Nguyen Lan Chi's background and attitude, she is the right candidate to represent Vietnam in the global selection."


Adecco Experience Work Day
[26 April 2017] Through the #ExperienceWorkDay, we had a chance to share about how an HR company works and what is the life of a recruiter. We would like to thank our participants, RMIT University Vietnam and our colleges that dedicated the day to share their knowledge of the world of work with young career starters.



Adecco Vietnam at RMIT Career Week
[19 April 2017] This week we had a great afternoon with RMIT University Vietnam students within the school's Career Week.
During the workshop, Mr Andree Mangels - Adecco General Director and Mr Nghia Nguyen - Adecco Consultant talked about the Do's and
Don'ts
during an interview as well as how to impress with the interviewer.
Adecco Vietnam at Internship Fair of RMIT University Vietnam
On 30 March 2017, Adecco Vietnam had a great time joining the Internship Fair at RMIT University Vietnam. Filled with great conversations, we had a chance to share about essential skills for internship and how our program *CEO for One Month
can be a great start to any career.
Adecco Vietnam General Director at ILA Vietnam
Our General Manager - Andree Mangels had a wonderful session on Tuesday morning (14 March 2017) at ILA Vietnam to share about crucial skills for youth as well as our CEO for One Month program.
The session, which consists of guests and students from universities in Ho Chi Minh City, is focussing about the importance of soft skills and how to develop and use them effectively. Students can learn and advance their skills not only through learning but internships and incentives programs from companies will also make great improvements.
Adecco Vietnam at Youth Speak Exhibition by AIESEC
[12th March 2017] YouthSpeak Exhibition is one of the activities in the YouthSpeak Spring 2017 series, in order to create a chance to meet for employers and university students.
Adecco has talked, tested and provided career guidance to over 200 students who attended the exhibition. We also introduced exciting opportunities to work with Adecco, including the Internship Program and *CEO for One Month.
Adecco Vietnam Kick Off 2017
On 6th March 2017, Adecco-nians from Ho Chi Minh City and Hanoi gathered in an action packed and fun meeting to brainstorm how we can #deliverWOW to our clients and candidates.

This year Kick Off carries the theme "We Act Today" that emphasizes sense of urgency to take action in current rapidly changing business world.

Are you ready to be WOW-ed?


Check out the official video from our Kick Off 2017
here


Win4Youth
Win4Youth is a global sports and CSR initiative organised by Adecco to raise money for foundations supporting abandoned, orphaned or sick children and helping families from disadvantaged communities while living Adecco's core values actively.
Since the programme began in 2010, colleagues have taken part in running, cycling and triathlon highlight events. Now celebrating its 7th year, the 2016 programme will concentrate on achieving the ambitious goal of 3,500,000 kms by triathlon again.

All colleagues, associates and clients in more than 60 countries throughout the company are invited to organise their own triathlon events and to participate in local events. If our ambitious goal is achieved by colleagues, clients and associates, Adecco Group has committed money to selected foundations.
Highlight event in October 2016
The Adecco Win4Youth 2016 team of 70 ambassadors will be trained to face a triathlon in Spain, the Lanzarote Triathlon. And of course, our ambassadors have the full support of 32,000 colleagues in more than 60 countries that will also be swimming, cycling and running throughout the year to ensure we reach our goal.
WIN4YOUTH 2016 FOUNDATIONS
Nine foundations have been selected in Brazil, Bulgaria, Colombia, Greece, Hungary, Indonesia, Serbia and Slovakia along with a global foundation that is assisting civilian victims of natural disasters, wars and economic collapse. The foundations for 2016 were chosen by the countries, thanks to the global selection process that we introduced in 2014. Every country had the chance to hand in their favorite foundation. More than 40 foundations were put forward and the top nine voted foundations were chosen by the countries. The Foundations will equally benefit from the funds raised by Win4Youth.
Way To Work
Are you having trouble finding the ideal job or internship? Is your lack of experience working against you? Do you feel like you need to revamp your job search approach? Many students and recent graduates are in this situation, and we're here to help with the exciting and new Adecco Way to Work programme.
The Way to Work career programme was created to help students and recent graduates find desirable job opportunities and internships and prepare them to get hired. And since its inception in 2013, it has been a hit across the globe. The fast-growing career programme is built around three distinct components — Street Day, CEO for One Month internship and Adecco Experience.
On March 17, Adecco Group colleagues all around the world will be taking to the streets armed with tips and tips to help with your job hunt, to prepare your CV, shine at interview and much more.