A warm welcome to the first issue of FutuHRe Magazine, our new quarterly digital magazine focused on the Future@Work.
In this issue, we look at the future of recruiting as it becomes more technologically savvy, from both employers and candidates' viewpoint. Then, we investigate companies around the world that are renovating and reimaging their office spaces, and how Vietnamese enterprises can follow suit.
Our Country Director, Ms. Thanh Le also offers her advice to leaders looking for a smooth shift to a hybrid working model.
Further into this issue, see how you can shorten your tech recruiting process and connect with better hires; how your body language helps display your interest and build relations in the virtual environment; and our top trends from the world of work.
Download the PDF version of FutuHRe Magazine here.
Sincerely,
Editor Team
---
Online Hiring & Onboarding: Human Touch Stays Fundamental in the Digital Revolution
The world keeps changing, but one thing is certain: online recruitment is here to stay, as confirmed by our 500-response survey. Though both candidates and employers prefer a blended approach of face-to-face interactions and technology, their expectations for one another vary.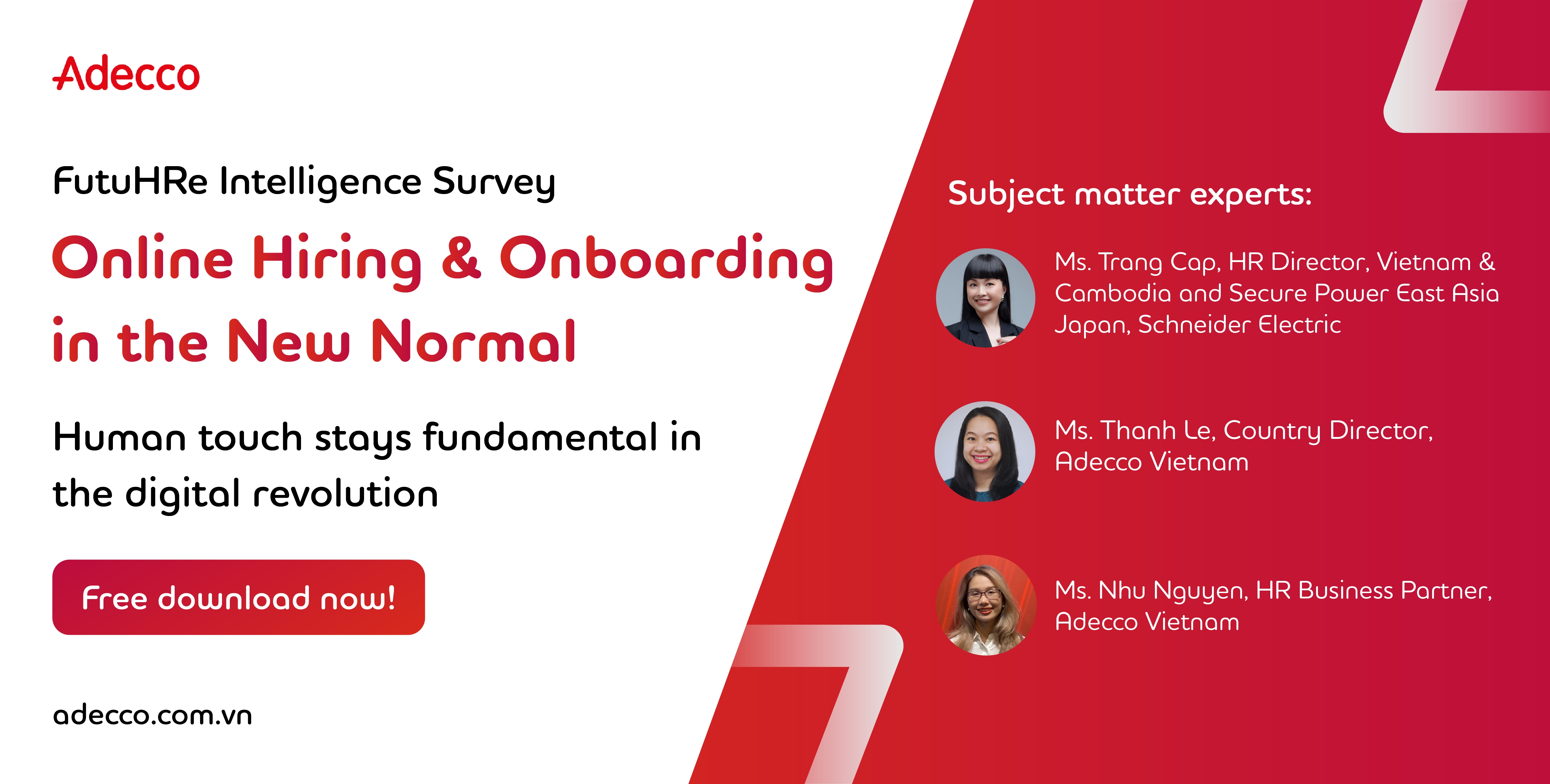 ---
Fresh




Thoughts
Ms. Trang Bui
Country Manager
Cushman & Wakefield Vietnam
"
Despite the surprising levels of productivity, many businesses noted that increased remote work has created a perceived cost in long-term productivity, corporate culture, innovation and creativity.
It's a business challenge that requires an integrated approach from real estate, human resources, finance, and technology leadership. These departments need to work cooperatively as the organization defines the brand, builds culture, develops and refines policies, and creates reputation capital.
Read on to see how offices are changing to keep up with the challenges of hybrid work.
"
---
Adecco Vietnam - The shift to hybrid work
A conversation with Ms. Thanh Le, Country Director of Adecco Vietnam about how Adecco transitioned from an office-working model to a hybrid approach, yet still maintained tight collaboration and an uptrend in revenue last year.
---
Companies need to manage remote work or risk burnout, WHO warns
How work from home affects (and imperils) work-friend prospects
The boomerang employees return to previous employers — with new skills and new experiences
The world's biggest four-day work week trial has begun
Bali is developing a new five-year, "digital nomad" visa
---
Editors' Picks
Curated articles by our editors
Never miss out on
HR Thought Leadership
More about Adecco Vietnam
}