Adecco Vietnam's latest quarterly labor market update shows the impact of COVID-19 on the labour market and how recruitment demands changed in Q1/2020. It also covers a forecast for Q2, after the crisis.



How did COVID-19 hit the Vietnam labor market in Q1 2020?
The COVID-19 crisis is posing unparalleled challenges to the Vietnamese people and the economy. According to the General Statistics Office (GSO), Vietnam's GDP only jumped by 3.82 percent in the first quarter of this year – the lowest growth rate recorded in the past 10 years. The business community was hard-hit, with 35,000 enterprises shutting down in the first 3 months.


The temporary closure of non-essential services has forced workers in transportation, hospitality, beauty, and entertainment services to take unpaid leave or being laid off. The Ministry of Planning and Investment estimated that 250,000 workers lost their jobs this quarter and another 1.5-2 million face a similar threat as the tremendous impact of the novel coronavirus pandemic. Most of them are from the textile, footwear, restaurant, hotel, or tourism industries.

COVID-19 also spreads a negative impact on workers in the manufacturing industry. More than 56% of our raw materials have to be imported from China, Japan, and Korea. The global lockdown causes the supply and manufacturing process disruption, which puts enterprises such as automobile assembling, electronics, iron, and steel under enormous pressure to restructure their workforce. Besides, agriculture, forestry, and fishery have suffered the lowest growth rate at 0.08 percent in this quarter according to the latest survey of the General Statistics Officer (GSO). Farmers and low earners are, therefore, are hit the hardest.


Industries with high recruitment needs in Q1/2020
Pre-Coronavirus outbreak, in January and February, Adecco Vietnam still witnessed a rise in recruitment demand from electronics and manufacturing up to 11% compared to Q1 2019. This is due to the tension between the US and China, firms are gradually shifting their production chains out of China, and Vietnam is considered as a potential manufacturing hub. However, as the outbreak starts taking a toll in our country since March, recruitment demand for the whole market has dropped by approximately 30-40% compared to the previous year. Travel restrictions and lockdown also postpone new job opportunities for expatriates.


Instead, certain positions are highly sought-after than ever. ''E-commerce, information technology, and fintech are looking for more professionals. Social distancing and the fear of virus spreading make people are available online frequently'', said Ms. Nguyen Thu Ha. - Director of Hanoi office, Adecco Vietnam.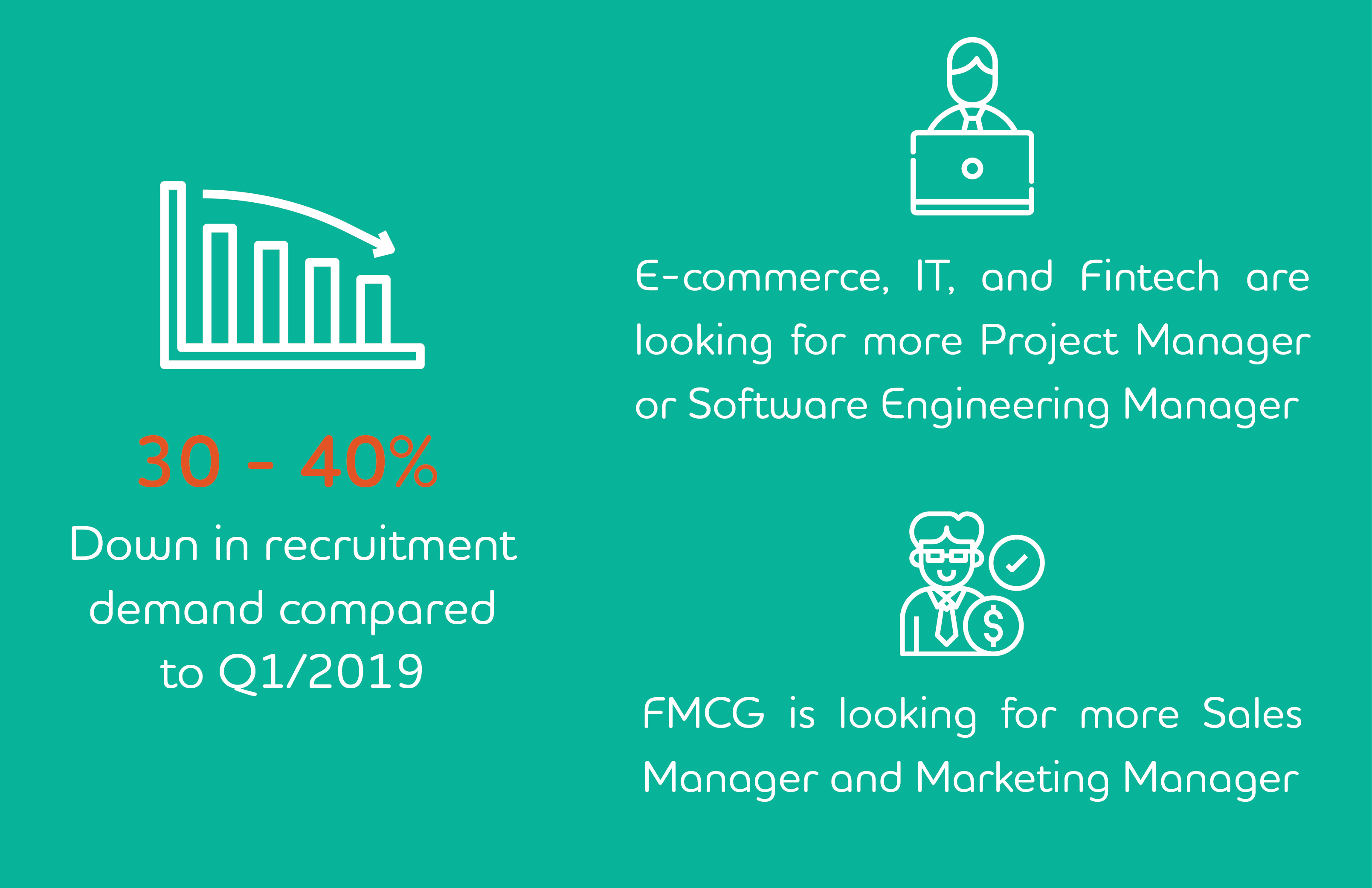 Mr. Chuong Nguyen - Associate Director, HCMC Recruitment Business, Adecco Vietnam added: ''In this quarter, many companies tend to recruit more project manager or software engineering manager in IT industry by 20% over than same period last year. Besides, the home-cook trend and preparation for quarantine lead to an increase in packaged and frozen food, dairy, personal care, and household products. We note that positions such as Sales Manager and Marketing Manager in FMCG are remarkably in demand", shared. It's also evident as the GSO recorded an increase of 5.69 percent in the wholesale and retail sectors.


Recruitment demand forecast Q2/2020
Q2 will likely see a strong comeback in transportation service, supply chain/logistics, consumer goods, agriculture (animal feed especially), and the recovery of F&B businesses when the virus threat is well contained. Recruitment inquiries in FMCG, pharma, and B2B sales maintain a similar volume in Q1 and will remain the main driver for employment in Q2.

The technology sector will remain a challenging one as their markets in Europe and America are in slow down mode due to the massive hit of a pandemic. It will take a quarter to get back outsourcing needs from those countries for outsourcing and service hubs in VN. Fintech will also be cautious of their strong expectation of sales and user growth because people will hesitate to pay out for consumer loans until the economy is back in growth mode.


The unemployment rate will positively be reduced due to the fact that businesses are back to almost 100% normal working conditions. E-commerce will stay as the main boost for market consumption taking a larger portion from traditional retail as the awareness of social distancing is recommended.
Our online media releases: Thanh niên, Pháp Luật, Forbes, Người lao động, Hanoitimes, Tuổi Trẻ, Vnexpress, Tienphong, Thời báo kinh doanh, Brandsvietnam, Baomoi, Doanh nhân, Công đoàn Hà Nội, The leaders, Đất Việt, Bảng tin, Cuộc sống an toàn, Báo Hải Phòng, Doanh nghiệp hội nhập, Báo hôm nay, Công đoàn Bộ KHCN, Điểm báo 24h, Daklak 24h, Giaoduconline, Intellasia. Vietstock, Vnexplorer,
Staffing Industry Analysts.