Sự nghiệp tại Adecco
Gia nhập gia đình Adecco Việt Nam
Vị trí đang tuyển
Tìm thấy 6 vị trí
Recruitment Trainee
Hanoi city
Negotiable
Không cần kinh nghiệm
Được thêm vào 2 ngày trước
Business Support Intern
Hanoi
Negotiable
Không cần kinh nghiệm
Được thêm vào 9 ngày trước
Business Development Support Executive
Ho Chi Minh
Negotiable
Không cần kinh nghiệm
Được thêm vào 16 ngày trước
Senior Recruitment Consultant (PERM) - District 4
Ho Chi Minh City
Negotiable
Không cần kinh nghiệm
Được thêm vào 21 ngày trước
Recruitment Intern
Ho Chi Minh
Negotiable
Không cần kinh nghiệm
Được thêm vào 37 ngày trước
Recruitment Consultant (PERM)
Ho Chi Minh
Negotiable
Không cần kinh nghiệm
Được thêm vào 54 ngày trước
Sinh viên thực tập
Learn more & Apply
Tìm thấy 2 vị trí
Business Support Intern
Hanoi
Negotiable
Không cần kinh nghiệm
Được thêm vào 9 ngày trước
Recruitment Intern
Ho Chi Minh
Negotiable
Không cần kinh nghiệm
Được thêm vào 37 ngày trước
People at Adecco
LINH HOANG - Recruitment Consultant
"I started at Adecco as an Associate Consultant specializing in General Staffing desk. 8 months later, I was promoted to Recruitment Consultant of Manufacturing & Engineering team and have been in this area for nearly 3 years. Thanks to many well-rounded training sessions, hands-on lessons and support, I see myself growing up everyday both professionally and personally.
What I love most about working at Adecco is every employee is treated respectfully and fairly. There is no gap between managers and team members. Although there've been ups and downs, my manager always does her best to support and motivate me. For me, she is not only my manager but also my teacher, my sister, my friend."
HOA PHAM - Senior Consultant
"I joined Adecco in the middle of 2018 as an Associate Consultant and was promoted to Senior Consultant in 2020. After more than 5 years working at Adecco, I'm still feeling a strong sense of belonging with a wide range of possibilities to expand my career here. I'm trusted and empowered to develop in different areas of recruitment, to learn and aim higher in my career every day.
Though my team is large with many different personalities, everyone stays supportive under the great guidance and inspiration of my manager. That's why I love working at Adecco and still stick with the job after many years."
MI BUI - Business Development Manager
"I joined Adecco as an intern after graduating from the 2015 CEOforOneMonth program. I was first an Account Executive for the Staffing Solutions Team, then moved to Business Development Team and finally developed to the current role as Business Development Manager of HCMC Branch after 6 years.
I was lucky to be rotated to different positions in the company, which allowed me to fully understand Adecco's business to excel in my current role. Throughout the years, I always have the autonomy and support from line managers and colleagues to learn new things, develop my own capability and work on new projects."
Phát triển nghề nghiệp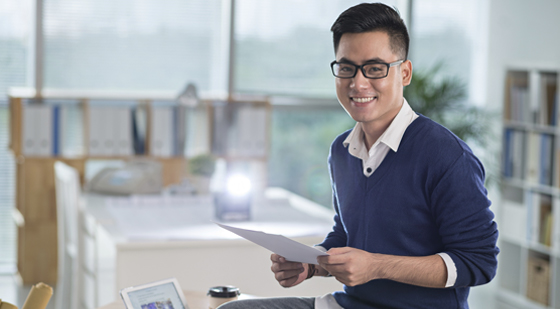 Learn and develop together
Adecco is a leading provider of human resources services. We realize that in a matter of priority to human resource management; especially in the development of personnel within our organization. We are committed to employee development and training courses, strengthen the skills and knowledge to meet the needs of our employees continuously to progress and develop to success together.
Adecco is committed to the development and opportunity for all employees to participate in commenting fully. We have evaluated the performance and development plan quarterly, so that all of our employees can continue to progress and grow with our organization.
Adecco concerned about keeping good employees are able to remain with the organization and grow together. With our curriculum development via the Adecco Academy course, we will start with the selection and evaluation of annual capacity to consider employees with the ability and commitment to work. These employees have the opportunity to develop advanced leadership roles in the organization.
After assessment, employees will develop and enhance the experience to prepare for the challenges that will be assigned in the future.
Adecco Career path development
At Adecco, we know that our long-term success will depend upon yours, we make every effort to fasten your progress along a clearly defined career path. We aim to contribute to every colleague's ability to develop a career path by making the knowledge, skills, techniques and let them learn from the critical thinking and best practices
Adecco Academy
Training and development is a key part to leading employees and the company to success together. The Adecco Academy curriculum is developed to train Adecco's employees to move towards excellence. We provide opportunities for employees to improve their ability to work better, develop a strong career path as well as experiential learning.
1. Ensure that employees are equipped with the right knowledge, technical and tactical aspects of work that will help them perform better.
2. Coaching and mentoring on job training will be taken for at least 1 year working at Adecco.
3. Opportunities to improve job skills, soft skills and knowledge by training both in the classroom and through workplace assignments.
4. Employee will have their own career path development and training roadmap to succeed in their endeavors.
Step into the professional leadership
At Adecco, we give priority to develop our staff to step into the professional leadership. We believe that leadership is a key that helps to drive our organization to success. This course will develop skills in leadership and make it possible to create good jobs and advance their career in an organization.
Phúc lợi
Annual Leave, Birthday Leave and Personal Leave
1. Adecco employees can take up to 16 days of annual leave depending on job level.
2. An Adecco employee who is absent from work for a personal reason, such as, a specific incident (foreseen or unforeseen) requiring the presence of the employee, the illness of a spouse or dependent, legal affairs, etc. can take personal leave following to company policy.
3. Better work, better life: 1 paid day off for employee's birthday in order to bring a balance between personal life and work.
4. For Adecco employees who has more than 05 years of service, 01 annual leave day will be added each year from the 6th year.
Social, Medical and Unemployment Insurance
1. All statutory insurances are in compliance with Vietnam Labour law, 100% contribution based on monthly gross salary.
2. Social Insurance covers for pension/ death allowance/ maternity/ sick leave.
3. Medical Insurance allows employees to use basic medical treatment at registered hospital.
4. Unemployment Insurance to support people in any jobless situation during working age.
Female employee support
1. As per job level and lengthen of service, employee will be entitled to company maternity support.
2. Employee can choose flexible working type during the pre natal and post natal period, such as work from home or work as part-timer.
Private Health Insurance
1. Employees are entitled to health insurance coverage in personal accident, hospitalization and surgical, outpatient treatment, death and disablement.
2. A guaranteed fund of minimum 30 times of gross monthly salary will be paid for death and disablement due to accident.
3. This insurance also covers pre and host treatments, home nursing, room and board during an in-patient stay, surgical operation, ambulance services and hospital daily allowance.
4. Coverage of maternity care complication of pregnancy and childbirth, normal delivery cost and prenatal check-up.
5. Employee also receives payment for consultation charge, medicine, laboratory test and dental care.
6. An upgrade of private health insurance is available based on the length of services and promotion.
Medical Check-up
We have a benefit in terms of annual medical check- up organized in the beginning of every year to encourage employees to care for their own health.
Service award
For employees who work with full capacity for a long time at Adecco, they will be recognized and received the certificate and monetary gross amount from 2 years services and above.
Other benefits
We give more benefits to employees by present for the special events of birth of child, marriage and including the loss of their spouse or dependent (a monetary amount will be paid through salary).